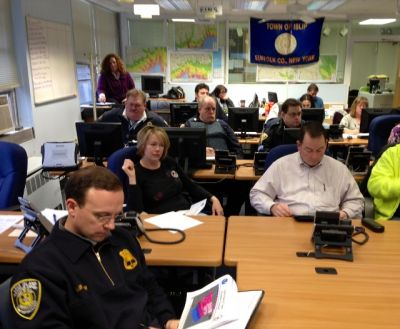 Islip, NY – Islip Town Supervisor Tom Croci has activated the Islip Emergency Operations Center (EOC) due to the severe winter weather expected to impact Islip Town.  Heavy snowfall, high winds, and flooding are expected in areas across Islip Town.
Residents are urged to limit their travel and to park their cars off the streets if at all possible to help our plows navigate the streets.  Residents in coastal areas should be advised that high tides are expected to be 2-5 feet above average from 8:30-9:30 p.m. Friday night and 9:00-10:00 a.m. Saturday morning.
"Right now all of the evidence before us indicates that this will be a significant weather event in Islip Town," said Supervisor Croci.  "The combination of heavy snow, flooding, and high winds could leave many residents without power and emergency vehicle access.  Roads will be extremely hazardous, and I ask that residents stay off the roads to allow our crews to do their jobs."
The Islip Departments of Public Works, Parks and Recreation, and Environmental Control all have crews deployed to plow roads, clear downed trees, and improve neighborhood access for emergency vehicles.  More than 125 Town vehicles are prepared to run throughout the duration of the storm, with an additional 80 contractors and 205 pieces of heavy equipment being called upon to help clear Town roads.  The Town will also deploy specialized vehicles equipped with pumps to areas that are particularly vulnerable to flooding, such as the Seaquams Lane neighborhood in West Islip.
"More rain could mean less snow, but roads will remain dangerous because of the low temperatures expected to last throughout the storm," said Supervisor Croci.

The last flight leaving Long MacArthur Airport was at 3:20 (Friday, 2/8) and the next inbound flight is at 6:15 p.m. Saturday night. Travelers should call their airlines to check for delays and cancellations.

As during Hurricane Sandy, the Town of Islip will have a representative from LIPA/National Grid in place so that Town leaders can have direct access to the utility companies.  This will allow the Town to track utility crews and monitor their progress should power outages become an issue in our area.  

To report outages or downed power lines residents should call 1-800-490-0075.

Pictured: Supervisor Croci (left) joined by members of the Islip Town Board and commissioners of Town Departments at the Emergency Operations Center. Supervisor Croci, Councilwoman Bergin Weichbrodt (center-left), Councilman Anthony Senft, and Councilman Cochrane were all on hand to receive the latest updates in the Town's blizzard preparations.